O-O-Ovation – Come Play in our New Retail Showroom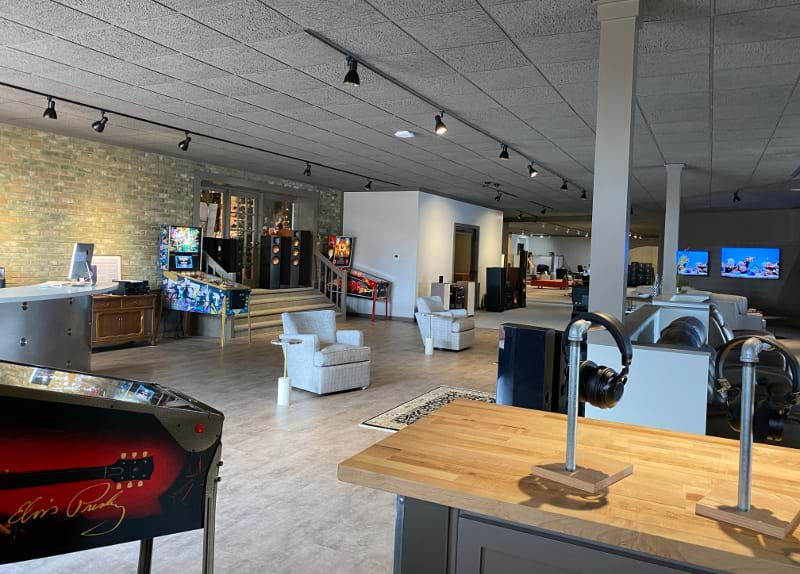 Welcome to our new one-of- a-kind, interactive showroom experience featuring the very latest in audio, video, home theater and smart home technologies. We have taken great pains to create an environment that is expansive, warm and welcoming to help you envision new entertainment options for your home and your lifestyle.
While you're here, we'll also offer you a long, cold drink of Classic Coke (in a bottle) from our vintage 1950's Victor C45 Coke machine, and for those of you with itchy fingers and a taste for nostalgia, our new Carmel store also features some very fancy vintage pinball machines, all restored and ready to play. Choose from four classic music-themed Stern machines featuring LED lighting, animated figurines and greatest hits from the Beatles, Metallica, AC/DC and yes, Elvis!
We hope to see you very soon. Our experienced sales associates are standing by, ready to welcome you and give you the grand store tour. We will do our very best to answer all your questions and demonstrate a variety of products and systems to help you find the lighting and home entertainment system of your dreams.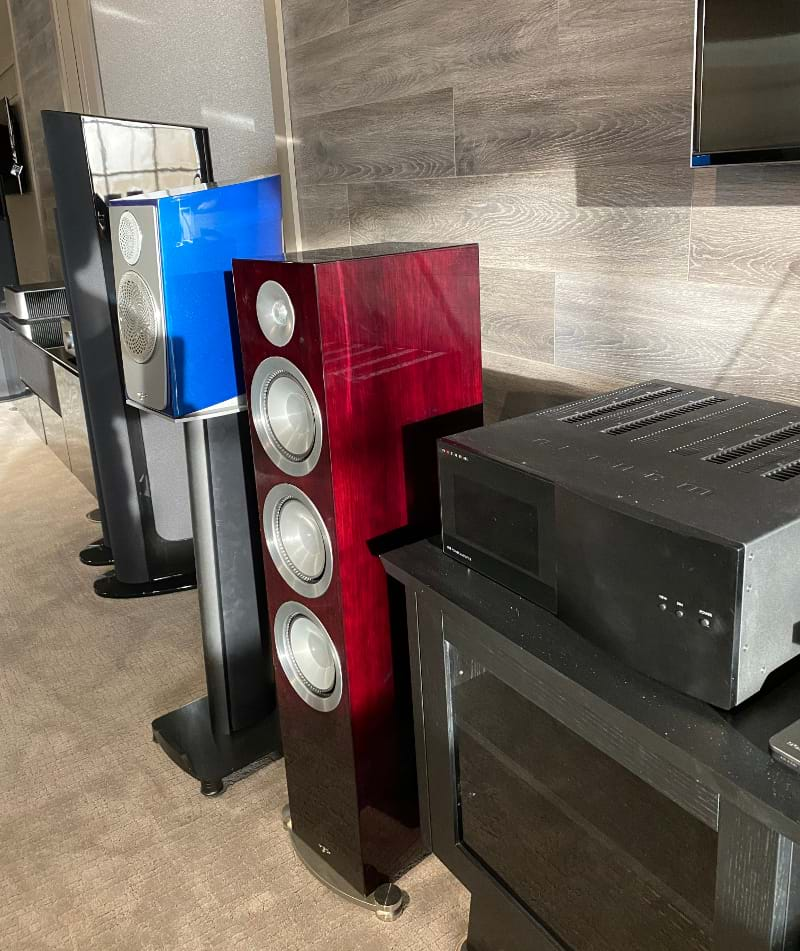 We Think Buying a Stereo System
Should be Fun
That's why we have created dedicated listening rooms and a comfortable relaxing environment for you to listen and compare before you buy. We are the only stereo store in Indy with so many premium brands of speakers and stereo components hooked up and ready to play, every day. We also have dedicated branded systems spread around the store featuring Magnepan, Golden Ear and Paradigm speakers paired with Anthem, Rogue and Cambridge Audio electronics. And in various parts of the store you can see and hear how great an excellent pair of in-wall or in-ceiling speakers can sound – without intruding upon your home's décor.
See and Hear the Best TVs
on the Market Today
We are also proud to showcase the newest and best 4K OLED and HDR TVs from Sony, LG and Samsung, and 4K Projectors from Epson and Sony so you can see for yourself which brand looks best to your eye. You'll be able to gauge exactly how big different size screens measure to help you determine what your space (and budget) will allow, including ultra-big screens that can be paired with ceiling-mounted or short throw video projectors for both indoor and outdoor sports and movie night viewing.
Not All Stereo Components are Created Equal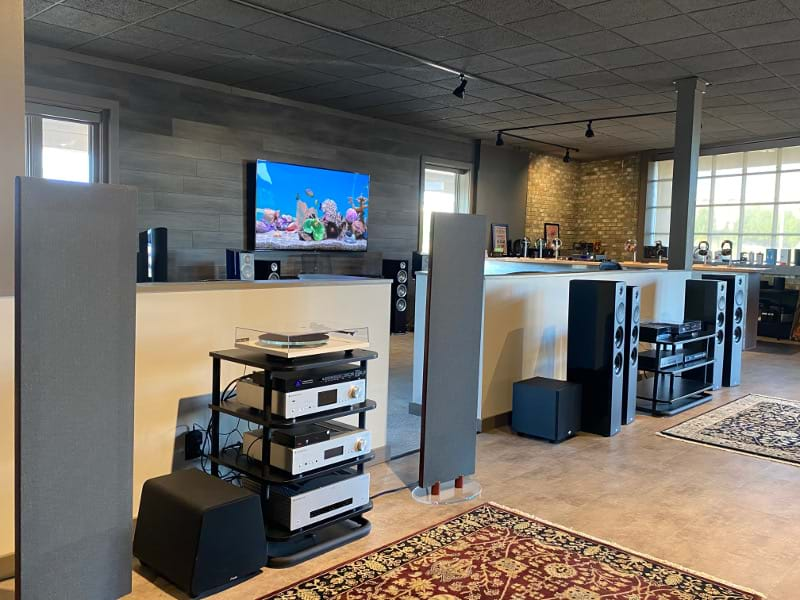 It's true. Some brands are definitely better than others just as some speakers lend themselves to certain types of music or certain acoustic environments. We have spent years researching and testing countless brands and products and have curated what we believe to be the best selection of premium stereo components in every price range - and for all manner of musical tastes. The fact is, listening to music on a well- balanced high-performance stereo system is one of life's great pleasures. We invite you to make a showroom appointment, bring your favorite music and spend some time with us listening, learning, comparing and ultimately choosing the exact right system for your ear.
Stunning, Explosive Sound in our Dedicated McIntosh/Klipsch Listening Room
If you've never before seen or heard electronic components from McIntosh Labs, you owe it to yourself to come in for a demo. We are proud to be selling this iconic brand of premium stereo and home theater components that are stunning to the eye, beautiful to the touch and melodious to the ear.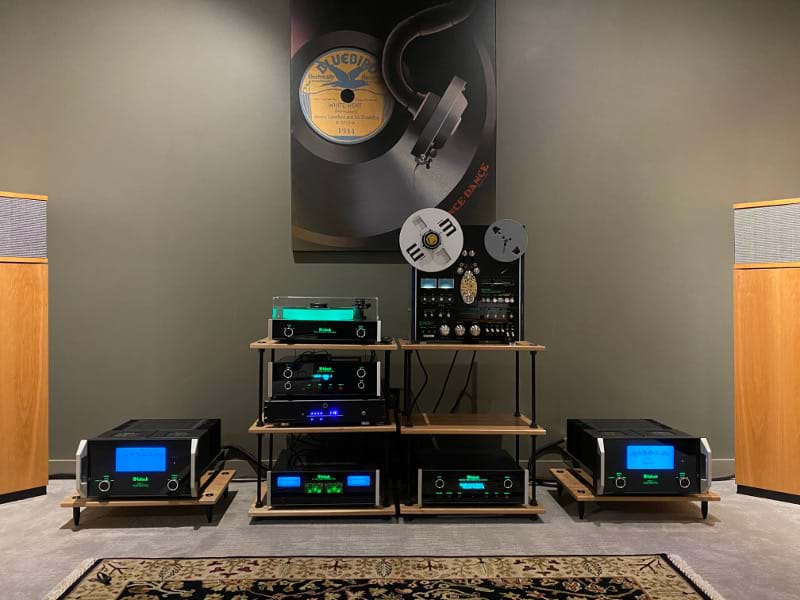 What's more, we are the only shop in Indy with all of the new Klipsch horn-loaded Heritage Series loudspeakers hooked up for your listening pleasure. Award-winning, floor standing models KlipschHorns, La Scala's, and Cornwalls, and Heresy bookshelf speakers redefine the way you experience bass response and definitely warrant a listening appointment in your very near future. In fact, we have dedicated an entire sound room to Klipsch Heritage Series speakers and McIntosh Labs electronic components (replete with fabulous lighting scenarios) that create a listening experience like you've never heard before. Take a tour.
We are also the only store in Indy to be showing and selling world- famous loudspeakers from Magnepan - with ribbon technology that can be custom-ordered in the color and finish of your choice.
Atmos Home Theater Experience – Simply Dazzling
One of the highlights of your showroom visit is the chance to experience what is perhaps the greatest sounding home theater system you'll ever hear. With the help of the eminently talented team of Klipsch sound engineers, our Atmos Home Theater Room is finely tuned to deliver accurate highs and explosive bass response - guaranteed to blow your mind!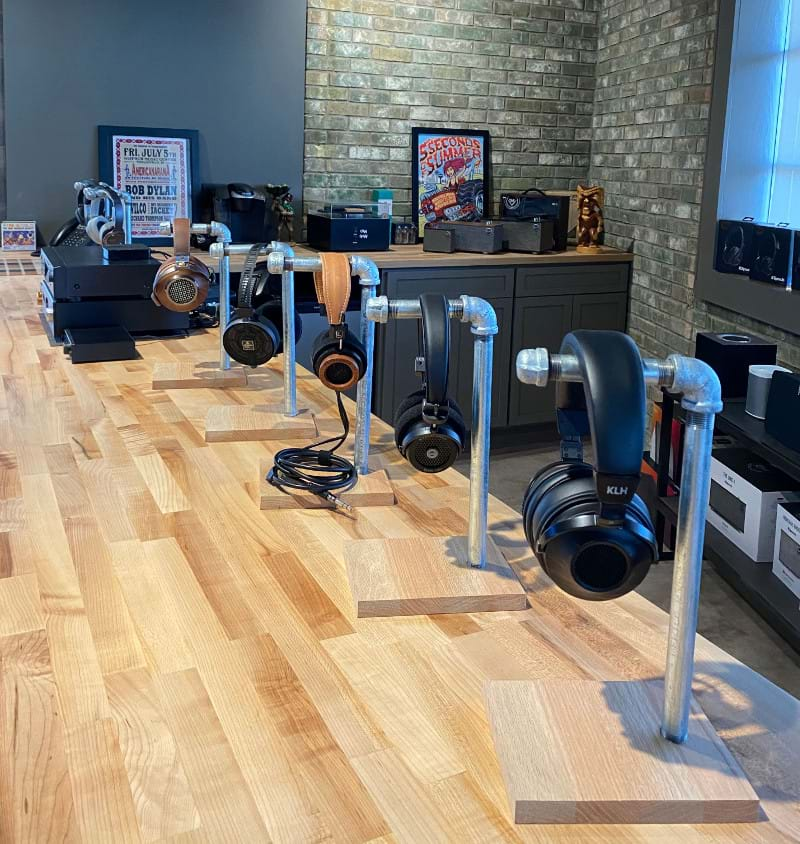 Headphone Bar
At the front of the store we've created an interactive headphone bar where you can comfortably try a variety of headphones to find the pair that's right for you. Choose from in-ear, over-the-ear and noise cancelling options as well as ultra-luxury models that feel as good as they sound.
Lighting Control and Motorized Window Treatments
While you're here, we also hope you'll take note of the store's ever changing lighting and shading scenarios, designed to help you understand how quality lighting and shade control systems can enliven the ambiance of any room, create safety and convenience for your family, and enhance your total home décor.