Pinball Wizard
The Beatles Gold Edition Arcade Pinball Machine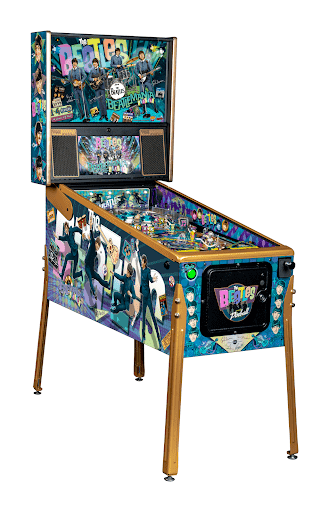 Manufactured by Stern Pinball Inc
Only 1964 machines ever made (1964 was the year the Beatles were introduced to the United States on the Ed Sullivan TV show)
Concept: Joe Kaminkow; Design: George Gomez; Art: Christoper Franchi;
Animation: Eric Drucker
The Fab Four are back and featured in this one-of-a-kind, Limited Edition collectable pinball machine showcasing custom colored metallic flake powder coated armor and unique art packages starring your favorite mop-top lads from Liverpool - just as you remember them from their State-side debut in 1964.
Designed to look like a vintage machine yet play like a modern unit, the retro-themed playfield features four flippers, three pop bumpers, two slingshots, eleven drop targets, eight stand-up targets, multiple skill shots, two opto-spinners, a ball-catching magnet and a magnetic spinning record disc in the center of the playfield. Full screen animations as well as simulated reel scoring appear on the game's high definition video screen. It is the only Beatles Pinball Machine EVER made with only 1964 games available.
Groovy in-game sounds include phrases from Ed Sullivan and Hall of Fame DJ Cousin Brucie, who introduced their legendary Shea Stadium Performance in 1964 (sound bites that are sure to send you back in time).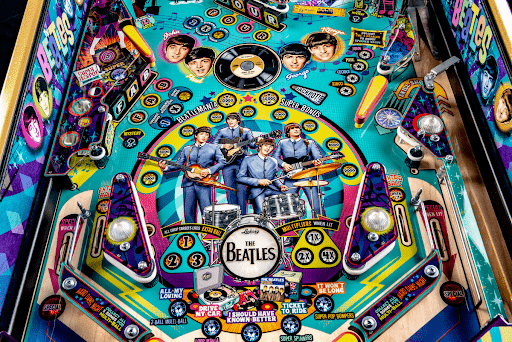 The 3 channel audio system is 3 times more powerful than previous generations of machines, making listening to the featured 9 songs all the more enjoyable!
The game features a total of 9 Beatles Songs: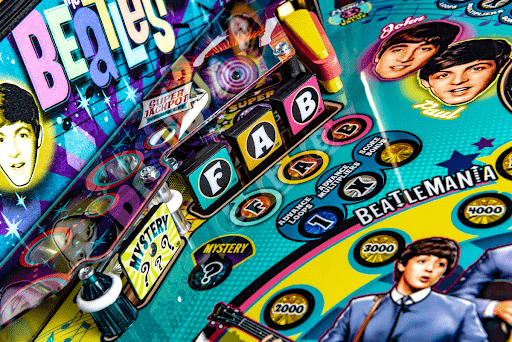 All My Loving (2-ball multi-ball)
Drive My Car (Loop Mania Mode)
I Should Have known Better (Drop Target Frenzy Mode)
Ticket to Ride (Super Spinners Mode)
It Won't be Long (Super Pop Bumpers Mode)
A Hard Day's Night (4-Ball Multi-ball)
Can't Buy Me Love (Main Play and Game Over Songs)
Help (Multi-ball ready Jackpot building mode)
Taxman (Main Play and game over songs)
Total Production Numbers
ONLY 100 Diamond Edition Games (Numbered, Certified Collectible, Mirrored Back Glass)
ONLY 250 Platinum Edition Games (Numbered, Certified Collectible)
ONLY 1614 Gold Edition Games
ONLY 1964 GAMES IN TOTAL