McIntosh: Where Technology Meets Elegance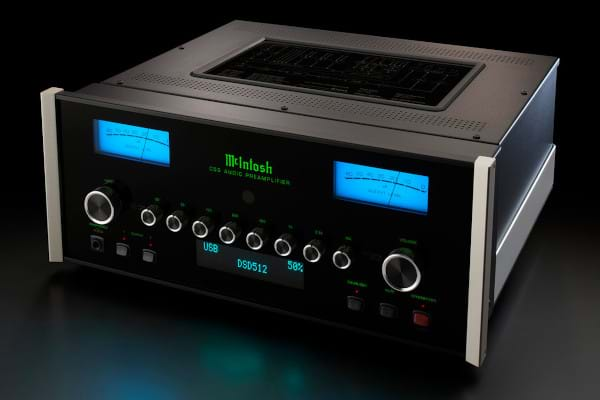 Most everyone remembers the first time they saw a piece of McIntosh electronics and recall those mesmerizing and iconic teal/robin's egg blue meters that dominate the front of nearly every McIntosh component ever made. There's no prettier audio gear on the planet.
If there were nothing more to McIntosh than its stunning good looks, it wouldn't have remained at the top of the audio food chain for over seven decades. "Best evers" in the world of audiophiles have been and will be debated forever. It's a wonderful yet entirely subjective hobby, perhaps better described as a passion, that's been around before mono became stereo in the 1960s. But as brands have come and gone over the years, respect for McIntosh endures in both the audio and luxury communities.
In 1949 Frank McIntosh founded the company that bears his name, originally located midway between Baltimore and Washington. Two years later he moved everything to Binghamton, NY, an upstate manufacturing city less than 15 minutes from the Pennsylvania border.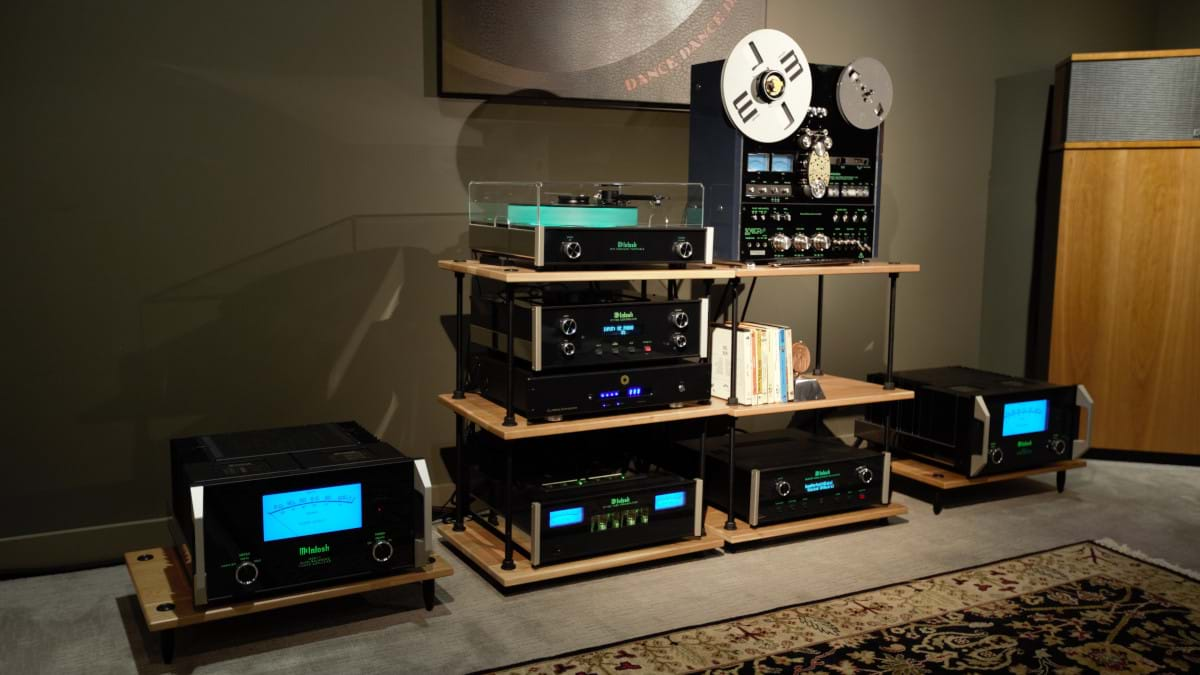 Despite a number of corporate owners who have come and gone over the years, since 1951, every single piece of McIntosh gear has been designed and handcrafted in Binghamton by music loving employees who are also fanatic about quality. Today's McIntosh line up makes a bold claim few, if any, audio manufacturers could. On their website (mcintoshlabs.com) they proudly proclaim: "Offering products for two-channel stereo sound systems and multi-channel home theaters with surround sound, McIntosh continues to define the ultimate home audio entertainment experience for discriminating listeners."
There is so much detail and nuance that goes into the making of a McIntosh audio component that it's difficult to decide where to begin. On the inside, they designed the unique Output Autoformer,™ an essential part of their power amplifiers that has remained pretty the same since it was engineered over 50 years ago. Digging deeper, there's Power Guard® which monitors and continually adjusts the input signal in real time to prevent harsh sounding distortion. Also worthy of mention is Sentry Monitor,™ McIntosh's fuse-less short-circuit protection circuit that disengages the output stage before the amplifier becomes an out of control toaster oven - then resets on its own when all is well. The result is a unique and resonant sound quality that defines the brand and delights music lovers all over the world.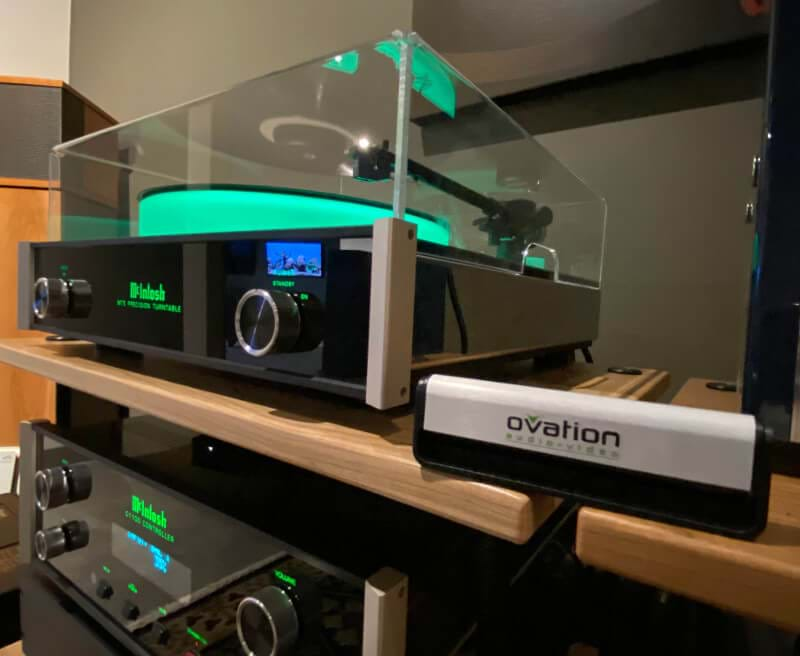 It's no surprise that a manufacturer who takes such care towards the interior and sound quality of its products to ensure customers a superior worry-free experience provides that same level of detail to the exterior. McIntosh front panels are either 1/8" or 1/2" thick glass. All the glass is cut on a CNC water jet (a machine that sells for north of a million dollars).
The front label control labeling is on the back side of the glass, reverse applied. Doing this one extra touch ensures that the labels will not wear off, even after decades of use. Each piece is like a work of art, meticulously crafted to deliver an aesthetically stunning and timeless finish.
Ovation is proud to have been appointed one of McIntosh's newest dealers. We're so excited that we have dedicated an entire listening room featuring McIntosh electronics in order for you to experience what is difficult to put into words. McIntosh amplification in this room is powering the new Heritage line of updated Klipsch loudspeaker classics from the world-renowned (and Indy-based) manufacturing company. Coincidentally, everything in this room is proudly designed, engineered and manufactured in the United States of America.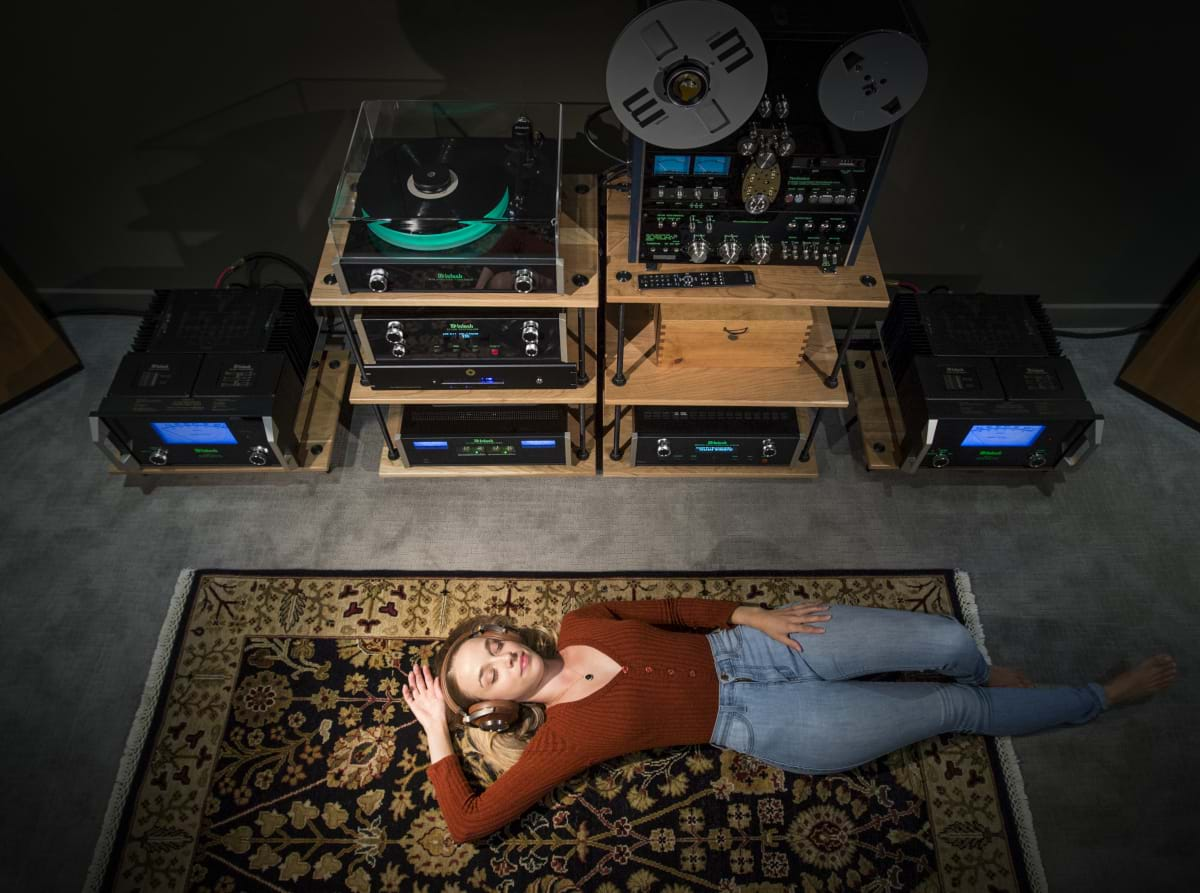 We'd love to have you stop by and spend as much time as you'd like listening in bliss to our McIntosh sound systems (and while your there, experience all the other great components hooked and on display throughout the store). Our experienced associates are here to answer your questions and show you why Ovation feels that fine audio, like heirloom furniture, is an investment to enjoy for generations.
If fact, time has shown that what big box chain and department stores sell as audio components often end up in the "free" section of Craigslist or kicked to the curb where your grandparents Philco console sat long ago waiting for a home. McIntosh? Oh...McIntosh ends up in your will!