November 1st, 2019 by Ovation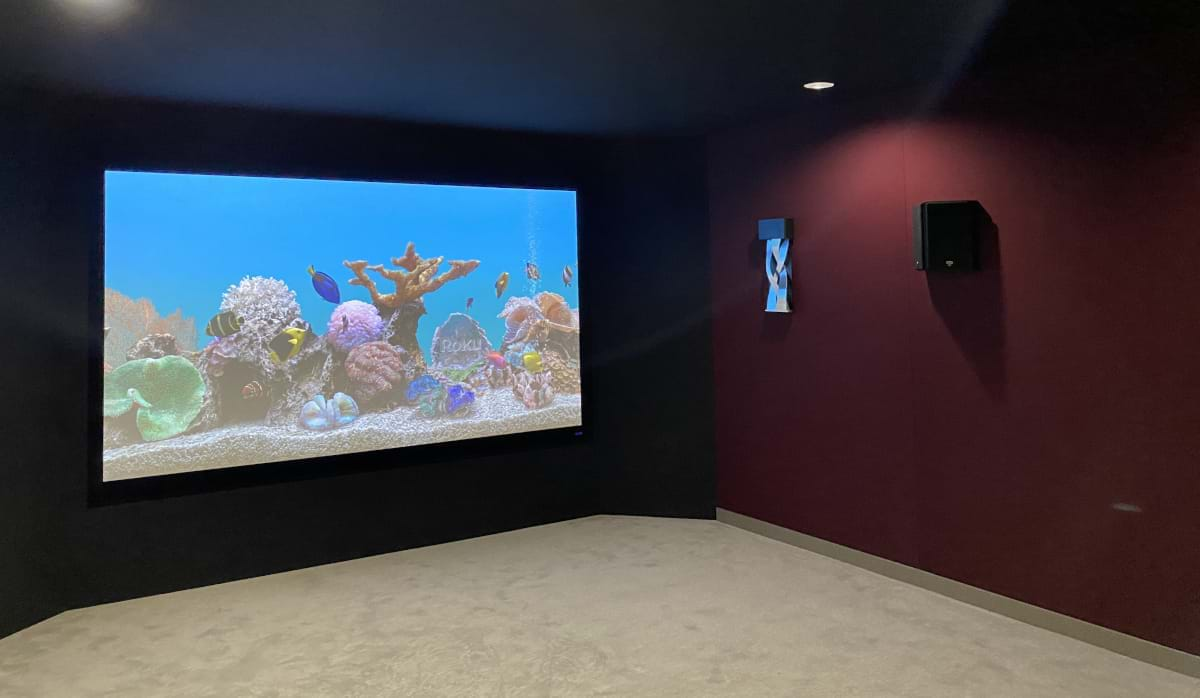 Maybe you've heard of the Boom Boom Room or Elvis' Jungle Room, but have you heard of the Dolby Atmos Room? It's the new home theater system that you can experience only at Ovation's newly remodeled Indy showroom! Our engineering buds at Klipsch (the speaker guys) and Dolby Atmos (the home theater guys) partnered with us to create an exciting surround sound experience, with the emphasis on surround.
Recently we chatted with Mike Buratto, Product Manager from Klipsch. He gave us the low down on how Ovation's Atmos Demo Room was conceived and why it may be the best sounding Atmos experience in the country!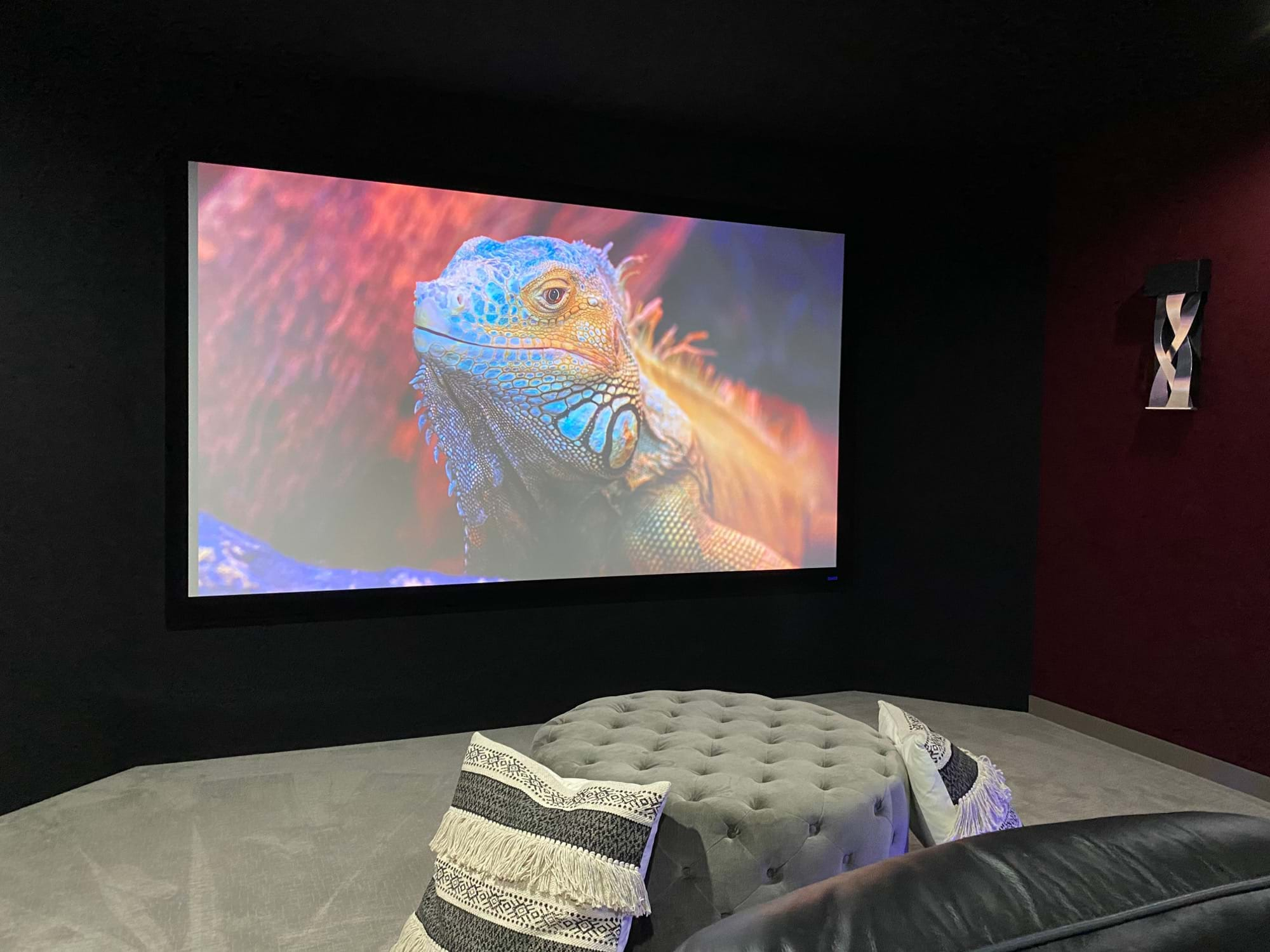 Buratto's the kind of guy who's been immersed in all sides of the music business, first as a musician when he was a drummer and then as an engineer when he eventually went to work for Klipsch in speaker design and development. He's pumped that Ovation has been such a huge proponent of the brand. "The new 'regime' at Ovation has been super responsive," he says. "It's cool that they took over this business because music and hifi are truly their passion. We're rejuvenating our brands together." In fact, Ovation is the only stereo store in Indy that has the full line of Klipsch Heritage speakers hooked up and on display.
The Ovation Atmos Demo Room was a collaborative effort between the Klipsch and Ovation brands. Says Burrato, "Klipsch offers a system design service where Ovation can submit their customers' plans for their audio needs for any indoor theater, room or outdoor living space, and our technicians develop the best scheme for the system."
The Ovation folk accessed this service for their demo room, and along side of the Klipsch engineering team, worked to design and install a true Dolby Atmos theater system that incorporates some of the very best Klipsch THXUltra2 and Heritage/LaScala products. Says Burrato, "It's one of the largest output home theaters I've ever seen which is so cool. This has become a great partnership and Chris Cruzan, General Manager at Ovation, has definitely been leading that charge."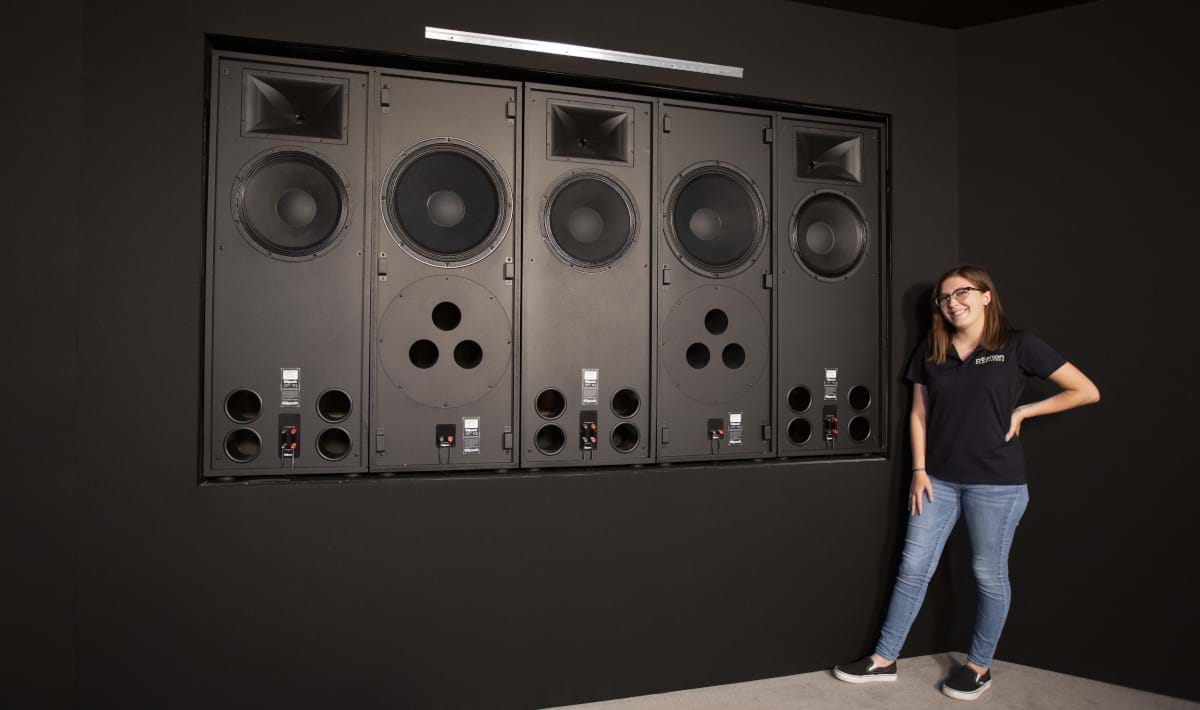 About the speakers in the Ovation Dolby Atmos Theater System, Buratto adds, "They're floor standing speakers with a unique feature - a top-mounted speaker that points towards the ceiling. It's a new type of surround sound. Atmos allows you to put audio over your head so you can hear surround effects from above - in addition to front, back and side surround. This is one of the greatest audible advancements in surround sound since the development of 5.1." This certified elevation speaker must perform to certain Dolby Atmos specs so that it sounds directly like it's coming from above your head, not simply bouncing off the ceiling.
According to Buratto, "There are less than 15 speaker models in the world that have this spec. Klipsch was one the first to get on board with this new Atmos sound technology. We were integral in helping Dolby create this amazing new technology."
In fact, one of Klipsch's proprietary technologies is the horn-loaded tweeter, which enables more sound to emanate from the speaker than a forward motion/direct radiator, so it's louder with the same amount of input. Says Buratto, "The horn loaded tweeter directs the high frequencies at the ceiling instead of shooting sound all over the room to create a more focused listening area. It's unique in that the sound reflects down to the listener, and the listener's brain tells them the sound is coming from above, as opposed to sound that comes from in front, or behind, or from the side, It's a more realistic Atmos experience because of the horn loaded driver.
What else can we expect from the local Klipsch engineering lab? Says Buratto, "Our new wireless products feature high-performance acoustic fidelity and premium design. Our streaming app allows you play hi res audio. No other competitor's products allow you to do that. When you listen to Klipsch wireless speakers, you can really hear the difference between high resolution and standard resolution audio." Heritage Series wireless speakers also have the ability to streamline titles. Says Buratto, "They have a mid-century modern look, which is now retro and in style. A lot of furniture and design décor is coming back that's similar to the Heritage design."
Realistic, convincing design has won Klipsch some major audio awards, such as the 2016 CES "Best of Innovation" Award for the Reference Premiere Atmos speakers and the Reference Premiere HD Wireless System.
And if you're a fan of the Top Golf entertainment venue phenomenon, you've probably heard Klipsch speakers blasting out some tunes while you wind up your driver for a long fairway shot.
We're pumped to partner with Klipsch and Atmos to bring you a home theater sound system like no other. Stop by our showroom and experience it for yourself today! Call 317-OVATION and get the scoop. If you're social, find us on Facebook, Twitter, Instagram and LinkedIn.
Posted in: Blog